Mielenkiinto vaatteiden alkuperää ja valmistusolosuhteita kohtaan on ilahduttavasti lisääntynyt viime vuosina. Ekologisuuden lisäksi on kiinnitetty huomiota tuotannon kestävyyteen laajemminkin.
Vietto-merkillä tuotannon vastuullisuus on ollut lähtökohtana aina siitä lähtien, kun yritys perustettiin vuonna 2007. Tuotteet on suunniteltu siten, että ne säilyttävät kiinnostavuutensa ja kestävät käytössä. Yrityksen toiminta lähti alun perin liikkeelle kierrätysmateriaalien hyödyntämisestä, joka edelleen muodostaa osan tuotantoa. Toiminnan laajentuessa käyttöön on otettu myös uusia, eettisesti tuotettuja kankaita.
Kaikki Vietto-tuotteet on alusta saakka valmistettu Suomessa. Vaatteet ommellaan pieninä sarjoina pienompelimotyönä Helsingin Malminkartanossa. Alihankkijana toimii Ompelimo M.Suvinen, jonka koneet pyörivät tuulisähköllä.
Vieton tuotantoketju on täysin läpinäkyvä ja valmistus pidetään jatkossakin Suomessa. Lyhyet toimitusmatkat ja hyvät yhteydet jälleenmyyjiin takaavat joustavuuden. Toimituserät ovat pieniä, jolloin tuotteita valmistetaan vain tarvittava määrä. Asiakkaiden toiveesta vaatteisiin on mahdollista tehdä pieniä mittamuutoksia ja muita muokkauksia.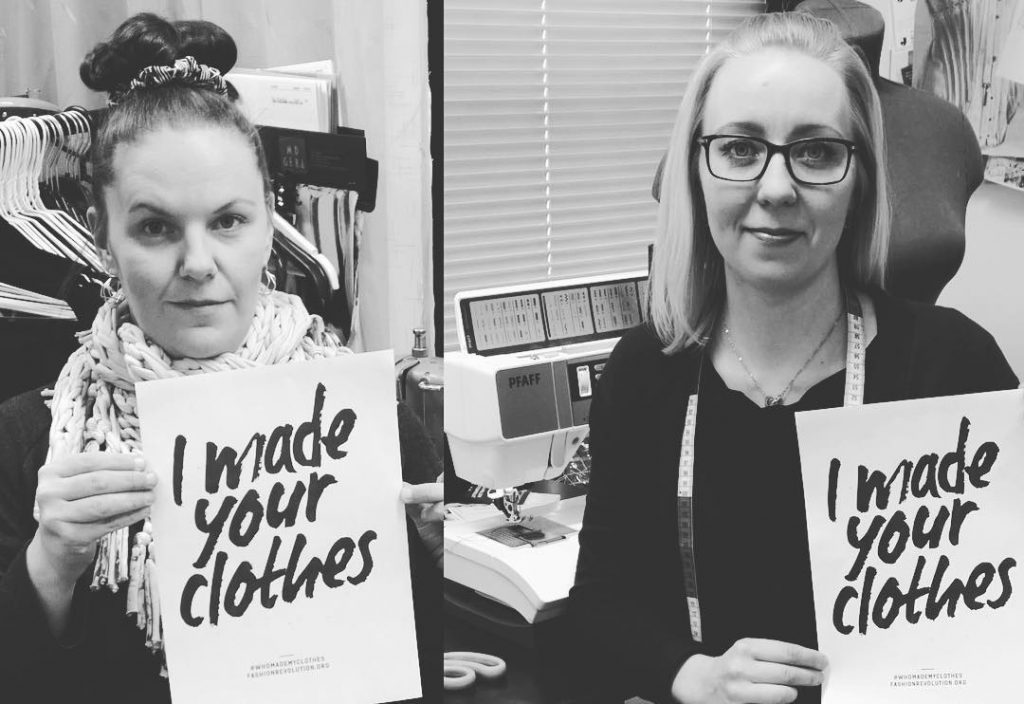 Vietto-merkin suunnittelija Minna Kaartinen ja ompelija Maarit Suvinen Vaatevallankumous-kampanjan kuvassa.
Suurin osa Vieton käyttämistä kankaista tulee Orivedeltä, Orneule Oy -nimiseltä yritykseltä. Tavoitteena on osaltaan ylläpitää kotimaista kangastuotantoa, jota on jäljellä enää vähän. Yhteistyön vahvuuksia ovat asioinnin sujuvuus, nopeat toimitusajat ja tilausten mitoitus materiaalitarpeen mukaan.  Vuonna 2017 myyntiin on tulossa vaatteita, joissa käytetään Orneuleen valmistamaa Vietto-tuotemerkin omaa, uniikkia villaneuloskuosia.
Orneuleelta hankitaan mm. luomupuuvillaa, bambu/lycra-sekoitetta ja villaneuloksia. Kankaat ovat laadukkaita. Merinovillaneulokset ovat eläinsuojelun näkökulmasta eettisemmin tuotettua mulesing-vapaata villaa.
Huomattava osa Vieton materiaalista hankitaan suomalaisen tekstiiliteollisuuden ylijäämänä. Käyttöön on otettu kangaseriä, jotka ovat teollisuudessa jääneet jäljelle aiemmasta tuotannosta. Vieton mallistossa on luotu kekseliäitä tapoja käyttää erilaisia ylijäämämateriaaleja ja tätä kautta on vähennetty tarvetta käyttää täysin uutta kangasta.
Ulkomailta on tähän mennessä hankittu ainoastaan 100 %:sta hamppua, jonka kaikkein ekologisinta tyyppiä, mekaanisesti muokattua hamppukuitua, tuotetaan Romaniassa.
Uusien kierrätettyjen ja puupohjoisten materiaalien kehittäminen etenee paraikaa hyvin kiinnostavalla tavalla, ja kehitystä seurataan tiiviisti. Vietto pystyy ottamaan nopeasti käyttöön uusia ekologisia kangaslaatuja, kun niitä tulee markkinoille.
Vieton tuotevalikoimaan kuuluu useita erilaisia printtituotteita. Tyyliltään tunnistettavat printtikuviot ovat saaneet innoituksensa mm. arkkitehtuurista, taiteesta ja luonnosta, ja ne on suunniteltu Minna Kaartisen ja Nina Kaartisen yhteistyönä.
Printit tehdään tällä hetkellä kaikki itse kalvoprinttimenetelmällä. Printti leikataan ranskalaisesta polyuretaanikalvosta, ja kuvio prässätään lämmön ja paineen avulla kiinni kankaaseen. Menetelmä mahdollistaa kalvon säästäväisen käytön, eikä siinä käytetä lainkaan vettä. Kalvoprinteillä saadaan erittäin värikylläisiä printtejä, jotka kestävät käyttöä hyvin pitkään.
The origin of clothing and the conditions of production have  delightfully attracted increased attention during last years. In addition to use of ecological materials, there is a growing interest on other parts of sustainability as well.
Responsible production has been a basis for Vietto from the very start of a label, since 2007 when Vietto was founded. Products are designed to keep their attractiveness and last long in use, both esthetically and physically. In the early days, Vietto used mostly upcycled materials, and they still play a certain role in the production. As the business has increased, also other sources of ethical materials have been introduced.
All Vietto products are manufactured entirely in Finland. Garments are sewn in small series as atelier work in Malminkartano, Helsinki. Subcontractor is dressmaker's shop named Ompelimo M.Suvinen, where machines run with wind power.
The production chain of Vietto is completely transparent and production will be kept in Finland also in the case of expanding business. Short delivery distances and good relationships with retailers guarantee the flexibility. Delivery quantities are small, so the products are made only due to demand. Vietto is also able to fulfil customers' hopes for little changes in measurements or other small modifications.
Most of the organic cotton, bamboo/lycra and different kind of merino wool knits that Vietto uses are from Orneule. Merino wool is mulesing-free which means that it's more ethical from the point of view of animal welfare.
Significant part of the materials consists of Finnish textile industry surplus fabrics. Those fabrics have been left over in clothing industry's former production and are often too small amounts to be used in a bigger scale production. Vietto has found inventive ways to use left over fabrics and this has decreased the need to use totally new material.
So far, the only fabric that comes from abroad is the 100% hemp. The most ecological type of hemp, mechanically processed hemp fiber, is produced in Romania.
The brand new fibers based on recycled and cellulose materials are developing quickly and advancements are followed with big excitement. Vietto is ready to take new ecological materials into the production as soon as they appear in the market.
Vietto collection includes many different print products that have their very own distinctive style. Prints have got their inspiration e.g. from architecture, art and nature. Prints are designed by Minna Kaartinen in collaboration with Nina Kaartinen.
At the moment, all the prints are produced by Vietto using foil print method. Print is cut very precisely from the foil and then it's pressed to the fabric with heat and pressure. This method allows vibrant colours and is also economical in material use. The foil material is made in France. Prints have proven to be very durable in use.